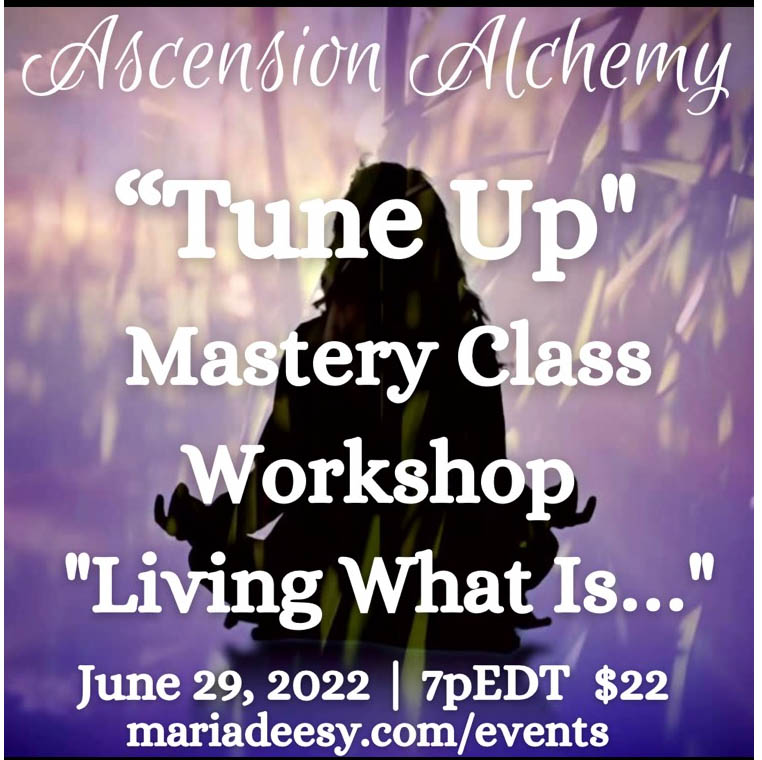 Living What Is …learning to stay present during challenging times
There have been so many changes in the last two years we've been forced to learn how to move through life with greater flow and less planning. The one thing we know that's a sure thing is change happens, and how we adapt or not is always up to us. The way we show up for change sets the stage for how we can expect our reality to play out.
Can we be present to be responsive or are we somewhere else in our thoughts getting triggered into reaction? Can we detach from the external and show up calm and un-nerved by what we witness going on around us or do we show up in an emotional state of confusion uncertain of our next step?
How can we learn to live with what is presenting and let go to be in flow? In this class we will:
Get clear on how we are creating our reality
Look at how our body might be leading the way emotionally instead of our mind
Look at ways in which we can shift into a present state of consciousness to counter outer world stressors
Detach from our unconscious attachments
Learn to feel our personal truth
Learn to move beyond thinking into feeling
Learn to enjoying the journey through self-discovery
Plus more…
Receive tools to help you stay more balanced in order to stay more present and watch the magic happen!
$22
June 29th, 2022
7:00PM
Use the button below to register for the class:
What you need to know if you are attending or planning to attend this gathering live or through the replay:
Registration closes at 5pm EDT on the 29th and class starts promptly at 7:00pm EDT. Please do not wait until the last minute to register as my system will not allow you to register after 5pm EDT.
You will receive two emails when you register, your Registration email contains the link for this class. Please do not delete it. If you registered and haven't received your Registration email please check your spam folder, sometimes it goes to spam due to the "live" link for accessing class. If you use Gmail please check your Promotions folder if you did not receive the registration email.
We are gathering through Zoom for a video interactive call, if this is your first time using Zoom please make sure you use the setup link in your email to set Zoom up on whatever device you are using. The link will walk you through the process, it's super simple.
You will be able to ask questions during this gathering as well at the end by using the "Raise Your Hand" key on your toolbar. Please familiarize yourself with this feature before class. I ask that you be respectful of each other as well as where each is in their journey.
Everyone who purchases this class will receive an "audio only" downloadable replay within 24-48 hours after the class whether you are able to be with us on the live call or not.