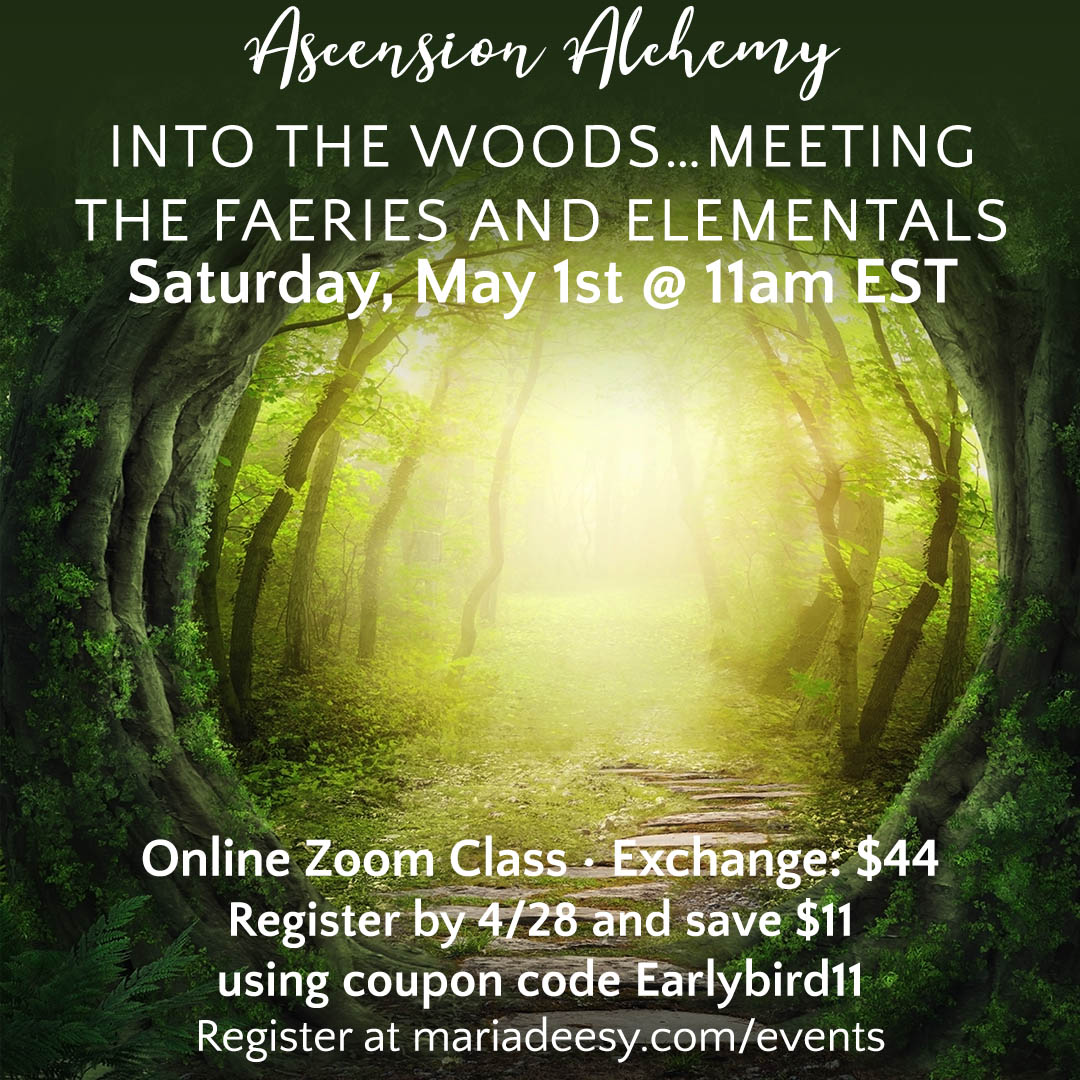 Into the Woods…Meeting the Faeries and Elementals
Have you noticed how faeries and elementals are popping up all around us. Perhaps you have small children in your life and they suddenly begin talking about meeting faeries, or you are noticing them showing up in your social media feed, or maybe you are out at a home store and notice on the shelves along with other chachkas or more than usual in the garden center or maybe you are feeling called to paint/draw them or inspired to read about them or take this class.
What most don't know is that the faeries and elementals are helping Gaia prepare her/our New Earth Realms. They are a critical part of our process of evolution. Gaia depends on them to help her manage and maintain her magic. Who are these interesting mystical creatures? I'm only too happy to introduce you having had my own encounters with them throughout the years.
In this gathering we will take a journey into the magical place the faeries and elementals live. Our journey will include:
Meeting the faeries

Myths, legends and folklore
Types of faeries
Creating a faerie alter

Meeting your faerie guide

Connecting to your guide
Learning their ceremonies for healing our body
Faerie Dream Magic: Learning how faeries can help us with dreams

Meeting the elementals

Myths, legends and folklore
Types of elementals

Connecting to the elemental realm

Meeting your elemental guide
Harnessing their magic for personal protection
….. along with anything else that comes through as you know the faeries and elementals have a mischievous side which means you may find things go missing the day of our gathering. They love chocolates, crystals, shiny sparkly things so hide your goodies or leave them out to attract these fun magical beings as we dive into the mystical land they live in!
Investment: $44
Register by 4/28 and save $11 using coupon code: Earlybird11
What you need to know if you are attending this gathering:
Registration for the class closes on April 30th at 12:00am EST. Please do not wait until the last minute to register as my system will not allow you to register after closing time.
Class starts Saturday, May 1st promptly at 11:00am EST.
You will receive two emails when you register, your Registration email contains the link for this class. Please do not delete it. If you registered and don't receive your Registration email please check your spam folder, sometimes it goes to spam due to the "live" link for accessing class.
We are gathering through Zoom for a video interactive call, if this is your first time using Zoom please make sure you use the setup link in your email to set Zoom up on whatever device you are using. The link will walk you through the process, it's super simple.
These gatherings are through Zoom with real time interaction. All are welcome no matter where you are in your journey. The only requirement to participate is that you come with an open heart, honor each in their journey and leave judgement and baggage at the door.
Everyone who purchases this class will receive an "audio only" downloadable replay within 24-48 hours after the class whether you are able to be with us on the live call or not.