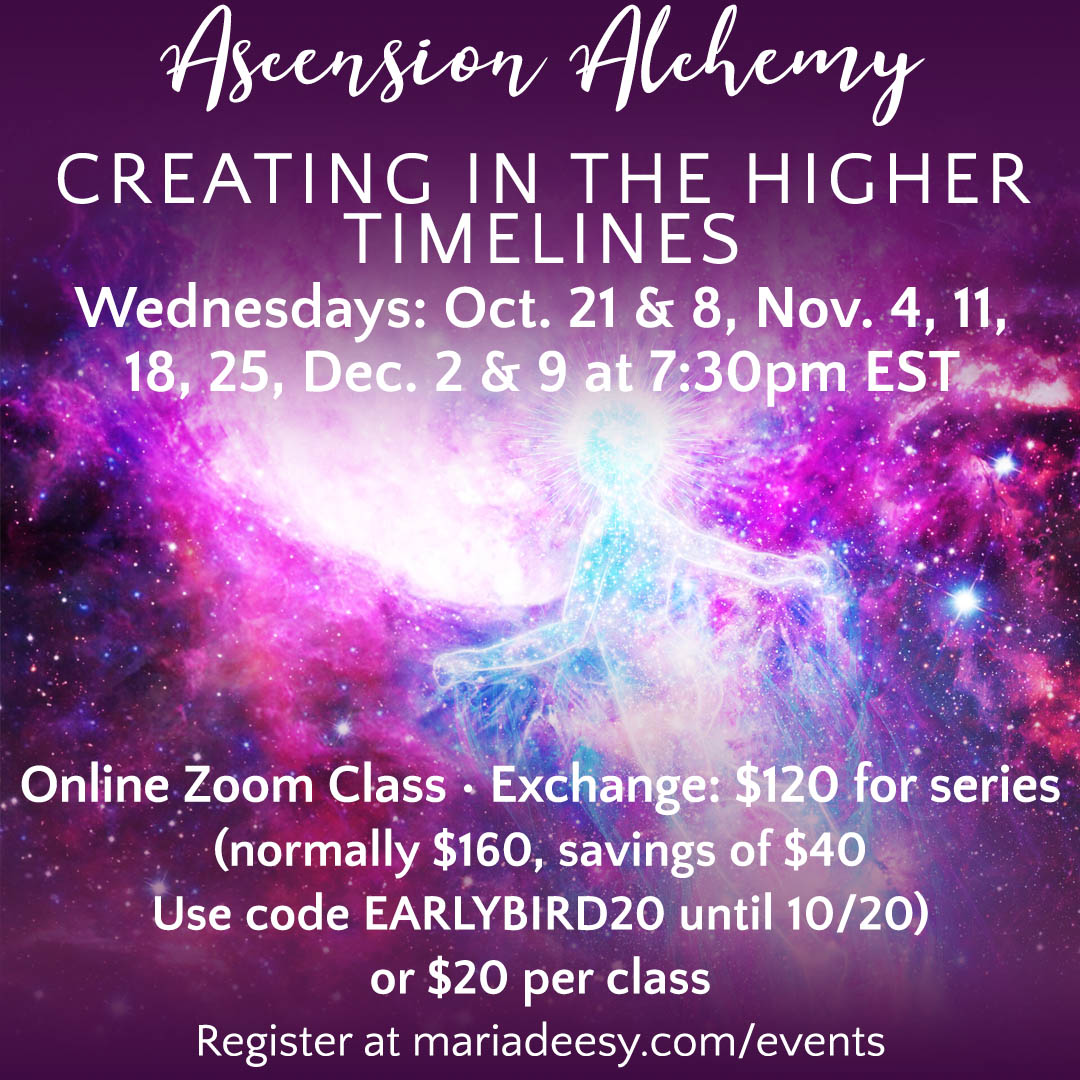 Creating in the Higher Timelines
Rainbow light body is bringing us to new heights of our awareness of ourself as Source. We are connected to all things and all things are connected back to us. This is the Law of One. These feelings stir up the need for a deeper dive into self exploration in order to see what is keeping ourselves from creating our best life. This is a Mastery level class where you will be connecting to your true identity.
Many are looking for ways in which to release the old beliefs, patterns, programs, routines and rituals that no longer work or feel comfortable as they once had supporting their daily flow. We are now seeing there is a need to simplify what we've spent many years complicating through beliefs that were not even ours.
This is where we will begin. We will look at all the areas that created a roadblock to our success in order to move beyond the limitations we've placed on ourselves. In this class we will deconstruct the mass entanglement of the 3D matrix, move beyond the illusion of the 4D Astral Plane and elevate ourselves into the higher timelines of 5D-9D as Creator Beings where we will tune into the fullness of our power to create the life we desire.
Classes will be held weekly for a total of 8 gatherings. We will be meeting through Zoom where I will start off with an energetic update and high light frequencies coming in as well as how to navigate them, tuning in to experience the higher timelines in order to anchor in our ability as a Creator Being in the Higher Timelines as we go through these next few weeks. Discussion will include but not be limited to:
Global shifts — light frequencies, light codes

Tuning in to hear, feel, know

What are the higher timelines

Why is it important to create from there
How will that benefit me/humanity/Gaia

How do I Create in the higher timelines

Knowing yourself as Source
How does being a responsible creator serve my higher self
Breaking "hive mind / tribe consciousness" to create authentically

Setting Intention

How to hold it in our field
How it supports our ability as a creator

Staying present in the now

How this supports our Ascension
How this supports our creator state
Accessing the flow of creation

Embodiment – Higher self merger with lower self

What does this mean?
What do I need to do?

What is Rainbow Lightbody?

How do I use this experience to my highest potential
How can this light frequency help me create in the Higher Realms

Connecting with your Higher Self

Focus on bringing through higher self
Focus on merging and maintaining a connection to higher self

Achieving Balance through Unification

What is the Unification Process?
What is the Zero Point Field?
What is Christ Consciousness?

Galactic Family & Contact
Tools to get you through

Grounding / Light grounding
Journal prompts to go deeper
Becoming a Co-creator / Source Consciousness
Manifestation
Staying present

Q&A at the end of each class to work through whatever you are needing assistance with. When one has a question it benefits all so lets talk it out!
And so much more!
Each week we will cover whatever is presenting within the collective in order to align ourselves and anchor in the higher frequencies. This gathering will give us all an opportunity to connect in person and support ourselves as well as each other. All are welcome no mater where you are in your journey. The only requirement to participate is that you come with an open heart, honor each in their journey and leave judgement and baggage at the door.
To register for individual classes, use the button below:
Class Dates
10/21
10/28
11/04
11/11
11/18
11/25
12/02
12/09
To register for individual classes, use the button below: