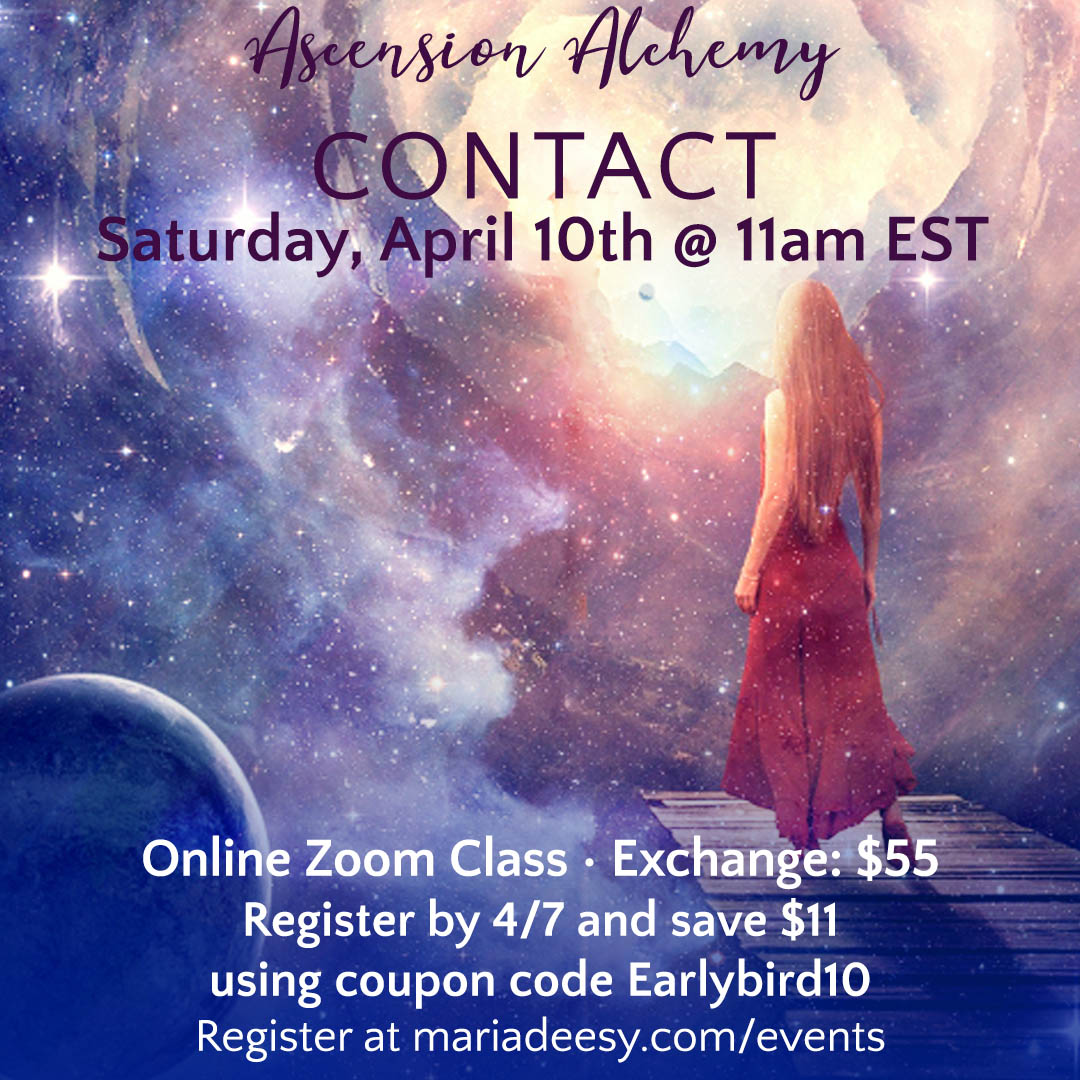 Ascension Alchemy: Contact
When is contact going to happen? What will it look like, feel like? Will I be ready or will I be afraid? Do I need to do anything to prepare for this? Should I be afraid of being abducted? These are a few of the common questions I'm asked on a regular basis. There's more excitement and curiosity now than ever before about how, when and if contact will occur. I'd like to offer some insights that I have as well as demystify some of the fears surrounding contact based on stories we've all heard growing up.
This class is designed to deepen and support our connection within ourselves as we explore our own galactic aspects as well as those of our galactic families. In this class we will explore but not be limited to the following:
What is contact?
How will I know, will it be clear to me?
What do I need to do to prepare?

Myself
My space
My intention

Why our "heart" is a key aspect
Will I know what galactic being / race is connecting?

Pleiadeans
Arcturians
Sirians
Zeta Reticuli
And more

Do the crystals I'm attracted to using play a role?

How to work with crystals
Using crystals to strengthen our field
Programming our crystals

How will I be able to communicate with them?
What role will this play in my life?

Is this part of my soul contract?
Free will

What is the truth about the "alien abductions" of the past?
Tools to support us

Sound
Light Language
Meditation to expand our field

How the Elementals play a role
And so much more! There will be plenty of time for Q&A.
Investment: $55
Register by 4/7 and save $11 using coupon code: Earlybird10
What you need to know if you are attending this gathering:
Registration for the class closes on April 9th at 12:00am EST. Please do not wait until the last minute to register as my system will not allow you to register after closing time.
Class starts Saturday April 10th promptly at 11:00am EST.
You will receive two emails when you register, your Registration email contains the link for this class. Please do not delete it. If you registered and don't receive your Registration email please check your spam folder, sometimes it goes to spam due to the "live" link for accessing class.
We are gathering through Zoom for a video interactive call, if this is your first time using Zoom please make sure you use the setup link in your email to set Zoom up on whatever device you are using. The link will walk you through the process, it's super simple.
These gatherings are through Zoom with real time interaction. All are welcome no matter where you are in your journey. The only requirement to participate is that you come with an open heart, honor each in their journey and leave judgement and baggage at the door.
Everyone who purchases this class will receive an "audio only" downloadable replay within 24-48 hours after the class whether you are able to be with us on the live call or not.