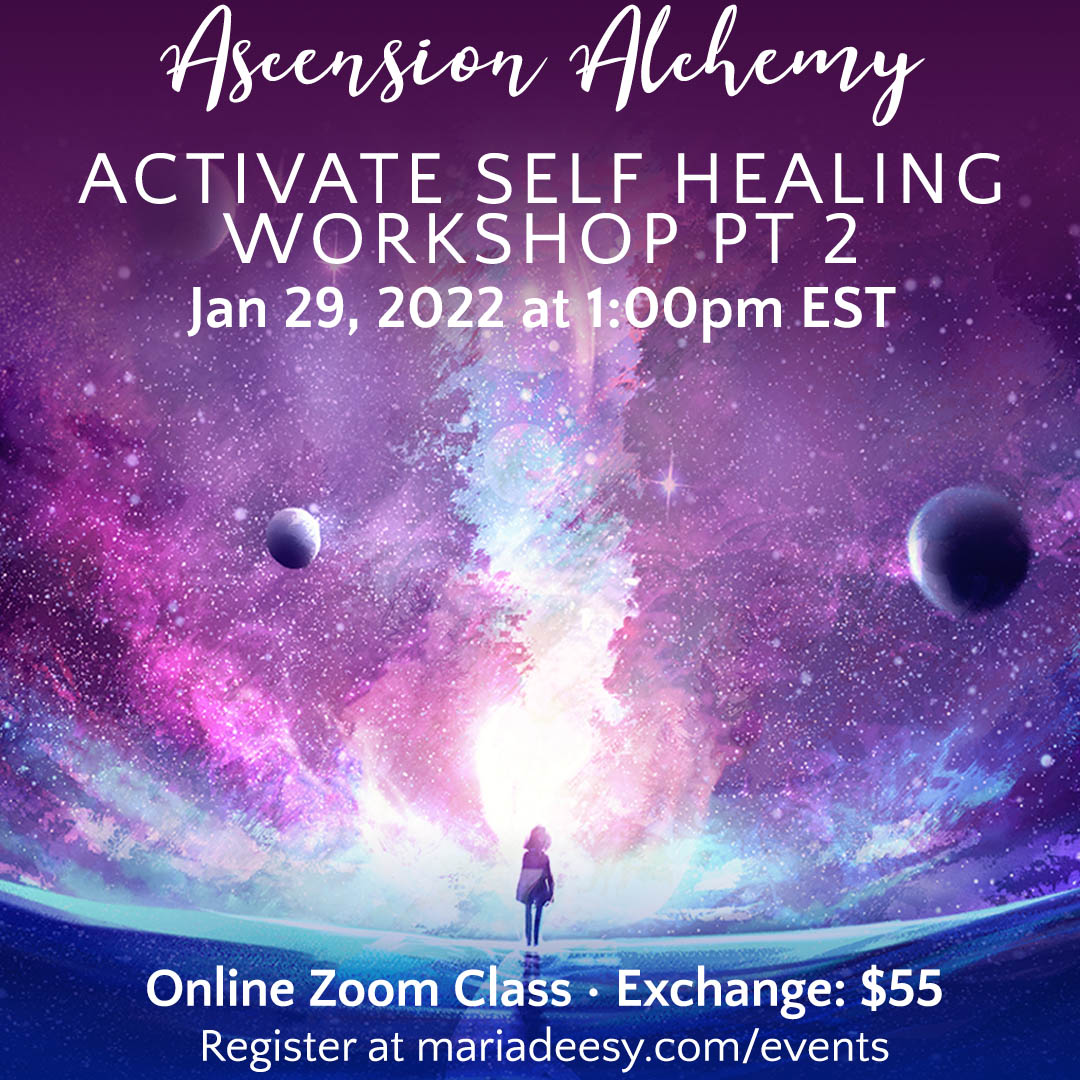 Are you feeling as though you're on a rollercoaster, one minute feeling your best self and the next minute feeling as though a truck has run you over giving you a time out because you can barely function?  If you answered yes this workshop is for you!  Welcome to Ascension where we will be spending the next 9-10 years building, not only our lightbody, but our "New Earth" experience for ourselves. What would you like that to look like?  Perhaps one of the key elements is optimal health where we leave behind surviving and head to thriving.
This new evolutionary gateway which is made up of much higher light frequencies like Gamma, Plasma, Crystalline and Photonic / SOULar light codes is pouring onto / into our physical bodies as well as our Earth.  This light is whats responsible for our continuous cycles of highs and lows which is recalibrating our DNA pushing us into higher states of living / being which will require us to have a better understanding of what is needed by us in order to take care of our physical body, our emotional body, and our spiritual body to bring them into balance and harmony in order to keep chaos and illness out.  This means we will need to be the gatekeeper of our lightbody caring for ourselves through self love and self nurturing.
How do we do this?  We do it by forging a deeper relationship with ourselves through greater awareness of our body and the Earth experience we are having whether we're stuck in patterns of outdated 3D thinking or knocking ourselves out trying to be a role model for 5D conscious New Earth, neither of which is where we want to be.  The desired experience is one that offers balance and harmony.
In this workshop you will learn:
How your energy body is currently working in order to maximize it's / your experience in it
How our strands of DNA play an important role in our Ascension process
How we can utilize our DNA to assist us to bring in healing and balance
How the Quantum Field plays a key role in supporting our evolution
Why our heart is the key to our ability to connect to our higher levels
How to activate our DNA for Self Healing
How New Earth Consciousness plays a major role
Why we are activating our 12 Strands of DNA…
And much more!
This event is being held through Zoom, an audio file will be available for download to those of you taking this workshop.  In the event you can not attend the live workshop you will be sent a link with instructions on how to access the file.
If you missed Activate Self Healing pt 1 and you wish to join us for part 2 you will receive a downloadable link to part 1.  There is no need to listen to part 1 prior to this workshop as I promise it will all make sense.
What you need to know if you are attending or planning to attend this gathering:
Registration closes at 12pm EDT on the 28th and class starts promptly at 1:00pm EDT. Please do not wait until the last minute to register as my system will not allow you to register after 12pm EDT.
You will receive two emails when you register, your Registration email contains the link for this class. Please do not delete it.  If you registered and haven't received your Registration email please check your spam folder, sometimes it goes to spam due to the "live" link for accessing class.  If you use Gmail please check your "Promotions" folder.
We are gathering through Zoom for a video interactive call, if this is your first time using Zoom please make sure you use the setup link in your email to set Zoom up on whatever device you are using. The link will walk you through the process, it's super simple.
You will be able to ask questions during this gathering as well at the end. I ask that you be respectful of each other as well as where each is in their journey.
Everyone who purchases this class will receive an "audio only" downloadable replay within 24-48 hours after the class whether you are able to be with us on the live call or not.